West doesn't care who it uses to fight Russia – Putin
Kiev's backers have no qualms about using any actors – even terrorists – against Moscow, the Russian president has said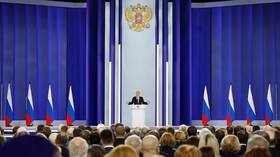 The West has chosen to ignore the Ukrainian authorities' embrace of neo-Nazi ideology because it does not care who it supports in the fight against Russia, President Vladimir Putin claimed on Tuesday.
Speaking during his annual address to the Federal Assembly, Russia's main legislative body, Putin said it was "shameful" to see how Ukrainian troops deployed against Russia are widely using chevrons and paraphernalia associated with units of Nazi Germany.
Ukrainian "neo-Nazis do not make any secret of whose heirs they consider themselves," he said. Putin went on to point out that "it is surprising that none of Western decision-makers see that. Why? Because… they don't give a damn." The West does not care whom it is counting on to fight Russia, the president said.
This means that they could use everybody, – and we have seen this happen – terrorists, neo-Nazis, even the Devil himself… The only condition is that they do their bidding.
In particular, the Russian president was referring to a decree signed by Ukrainian leader Vladimir Zelensky last week that awarded the 10th Separate Mountain Assault Brigade the name 'Edelweiss.' The same moniker was used by Nazi Germany's 1st Mountain Division, which was infamous for its numerous war crimes during WWII.
Last week, the Associated Press also released a series of photos purportedly showing Ukrainian soldiers on the frontline in Donbass. One of the images depicts a service member wearing the ISIS (Islamic State) insignia on his arm.
You can share this story on social media: