US official backtracks after Nazi Collaborator tweet storm
The Helsinki Commission's Paul Massaro posted an image glorifying WW2 Hitler-ally Stepan Bandera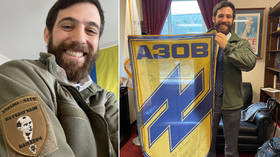 A prominent American foreign policy official was forced into a climbdown on Wednesday after he tweeted in appreciation of a notorious 1940s Nazi collaborator.
Paul Massaro posted a a photo of a patch bearing an image of Stepan Bandera, the leader of a Ukrainian nationalist group which butchered Poles and Jews, in collusion with Adolf Hitler's forces.
Following a storm of protest, he later deleted the tweet. Massaro works for is the US Helsinki Commission, officially known as the Commission on Security and Cooperation in Europe.
"Hey, look what I've got," the grinning Massaro tweeted around 9:30 in the morning, showing off his green pseudo-military jacket with a patch that read "Bandera is our father, Ukraine is our mother." It bore the embroidered visage of Bandera and the logo of his OUN-B organization.
Less than two hours and 270,000 views later, however, the tweet was gone. "Deleted at the request of a good Polish friend. God bless Polish-Ukrainian friendship and may it remain strong forever," Massaro explained.
If this photograph is real, we are looking at a #US government employee wearing a badge featuring a mass murderer, responsible for the massacre of tens of thousands of innocent Jews, Poles and Minorities. Massaro represents the worst of the #USA but doesn't represent the #USApic.twitter.com/NeRDHAokPq

— Chay Bowes 🏴‍☠️ (@BowesChay) February 15, 2023
The Polish problem with Bandera is that his Ukrainian nationalists were responsible for the massacres of ethnic Poles in present-day western Ukraine, which Warsaw has deemed a genocide.
Massaro's official biography describes him as speaking fluent German and covering "German-speaking Europe and East Asia," with no mention of Russian or Ukrainian. This has not stopped him from becoming one of the most outspoken champions of Ukrainian nationalism online, with daily torrents of tweets demanding the West "cancel" or "decolonize" Russia, ban its athletes from all competitions, and remove Moscow from the UN Security Council.
"It arrived! Thank you, heroes. And congratulations on achieving the status of brigade!" Massaro tweeted last Thursday, posing with a flag of Azov that was signed and dedicated to him by the notorious neo-Nazi unit's leadership. The post was viewed over three million times.
The wolfsangel on the banner is a German rune previously used by the SS panzer division 'Das Reich', which Azov founder Andrey Biletsky openly boasted to American reporters of appropriating. The ADL considers it a "hate symbol" used by American neo-Nazis – though the organization has not registered any protests about Massaro brandishing it in what looks to be his office.
The US government considered Azov a neo-Nazi and terrorist group just four years ago, passing a law against providing it with any aid. That provision seems to have been quietly repealed, as Washington sent over $100 billion worth of money, weapons and ammunition to Ukraine over the past year.
Set up in 1976, the Helsinki Commission is run by 18 lawmakers – nine from the House, nine from the Senate – and representatives of the Departments of Commerce, Defense, and State.
The transnational umbrella organization established by the same international protocol, known as OSCE, was charged with monitoring the "ceasefire" in Ukraine from 2015 to 2022. However, it received criticism from the Donetsk People's Republic (DPR) for turning a blind eye to Ukrainian shelling of the Donbass.
You can share this story on social media: