Putin reveals conditions for widening Ukraine operation
The Russian president issued the warning after the West pledged to supply Kiev with more lethal arms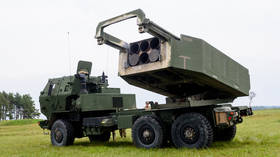 If the West decides to supply Ukraine with longer-range advanced weapons, Russia will have to push the threat further away from its borders, President Vladimir Putin has warned in his annual address to parliament.
"The West is using Ukraine both as a battering ram against Russia and as a training ground," he added on Tuesday, nearly a year after Moscow launched its military operation in the neighboring state.
"One thing must be clear to everyone," Putin said. "The longer the range of the Western systems that arrive in Ukraine, the further we will be forced to push the threat away from our borders. It's obvious."
Russia sent troops in Ukraine on February 24, 2022, citing the need to protect the people of Donbass and Kiev's failure to implement the 2014-15 Minsk accords.
Many Western countries have since supplied Ukraine with heavy weapons, including US-made HIMARS multiple rocket launchers and M777 howitzers. On Sunday, UK Prime Minister Rishi Sunak said his country would be the first "to provide Ukraine with longer-range weapons." US President Joe Biden, who traveled to Kiev on Monday, also promised to send more weapons, including additional HIMARS rockets.
Moscow has repeatedly accused Kiev of using foreign arms to indiscriminately shell cities and kill civilians. Aleksandr Bastrykin, the head of Russia's Investigative Committee, said on Monday that around 5,000 people have been killed in Donbass since 2014, with almost 9,000 wounded.
You can share this story on social media: