Putin explains why he launched offensive in Ukraine
The West was encouraging Kiev to try to retake Donbass, the Russian president has said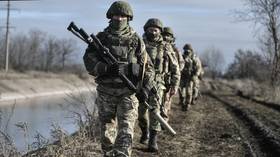 Ukraine was ready to launch a large-scale attack on Donbass by February 2022 and had the West's blessing to do so, Russian President Vladimir Putin said in his annual address to the country's parliament on Tuesday. He stated that Russia's military operation in Ukraine was launched as a pre-emptive measure.
Putin argued that after the US and NATO rejected Russia's mutual security proposals in December 2021, "it became clear that they had greenlighted [Kiev's] aggressive plans." The Russian leader added that Ukraine's Western backers were preparing the country "for a big war."
"The threat was growing day by day. The information we were receiving left no doubt that by February 2022, everything was ready for another bloody punitive action in Donbass," Putin said.
"I want to repeat: they started the war. And we have used and are using force to end it."
The Donetsk and Lugansk People's Republics broke away from Ukraine shortly after the 2014 coup in Kiev. The Ukrainian authorities first unsuccessfully tried to subdue the rebellions by force, and later instituted an economic blockade.
Russia sent troops into the neighboring state nearly a year ago, citing the need to protect the people of Donbass and Kiev's failure to implement the 2014-2015 Minsk peace accords.
Former Ukrainian President Pyotr Poroshenko acknowledged last year that Kiev had used the Minsk agreements to buy time and beef up its military and economy. Former German Chancellor Angela Merkel and former French President Francois Hollande, who brokered the deal, corroborated Poroshenko's account.
You can share this story on social media: