Kiev fears US pressure to strike deal with Russia – Politico
Washington could use Republican opposition as an excuse to throttle aid, an unnamed Vladimir Zelensky aide has told the outlet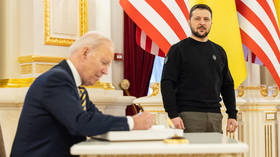 Officials in Kiev are afraid that the US could pursue a policy of winding down the conflict in Ukraine, Politico reported on Tuesday. US President Joe Biden has pledged publicly to support the country "for as long as it takes" to defeat Russia.
The growing reluctance by some Republican lawmakers to bankroll Ukraine could be used as an excuse to reduce military and financial aid and pressure Kiev into making concessions. The scenario was suggested by an adviser to Ukrainian President Zelensky, who spoke to Politico on condition of anonymity.
"I think both on Capitol Hill and in the administration, there are people who are looking to calibrate security assistance to incentivize the Ukrainians to cut some sort of deal, I'm afraid," the official was quoted as saying.
Other sources in the Ukrainian government confirmed previous reports about messages that CIA Director William Burns has been delivering to Kiev. During a visit last month, he told Zelensky to make swift progress on the battlefield because US aid would soon dry out, two Ukrainian officials confirmed.
Biden made a surprise visit to the Ukrainian capital on Monday, where he reiterated unwavering support for the Zelensky government and announced a fresh package of military assistance. But behind closed doors, Washington has reportedly given Ukraine until summer to make territorial gains against Russia, before the flow of military aid runs out.
Russia perceives the conflict in Ukraine as a proxy war by the US and its allies, aimed at eliminating its power and influence for the foreseeable future. Moscow says it will not give in, claiming its national security is at stake. The Kremlin has also accused Washington of derailing a tentative peace deal which Moscow and Kiev are said to have agreed in the early months of the fighting.
You can share this story on social media: