Two jailed over Ukraine conflict 'sabotage' operation
The pair had plotted to derail a troop train, officials have said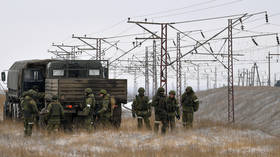 A court in Russia has sentenced two men to three years and six months each in prison in the first sabotage case since Moscow launched its military operation in Ukraine, the country's Federal Security Service (FSB) said on Tuesday. The convicts were only identified by their last names, Zelenin and Turyansky.
According to the FSB, the men were detained in March 2022 while plotting to damage train tracks near the village of Tomarovka in Russia's Belgorod Region, which shares a border with Ukraine.
The men wanted to derail a train transporting troops and military equipment and to inflict "casualties on the military personnel," the FSB said.
Zelenin and Turyansky were said to have been planning to later disseminate photos and videos of their actions online.
The FSB added that the two men were sending information about Russian servicemen to Ukraine's notorious 'Mirotvorets' (Peacemaker) website, which lists people who are purported to have committed crimes against the Ukrainian state. The open database has been described as Kiev's 'kill list' after several people listed there, including journalists and local politicians, were assassinated.
Russia sent troops to Ukraine nearly a year ago, citing the need to protect the people of Donbass and Kiev's failure to implement the 2014-2015 Minsk peace accords. Belgorod Region, together with other Russian territories bordering Ukraine, has since been shelled and attacked by drones. Belgorod regional officials declared a state of emergency in some areas in October.
You can share this story on social media: