Russia details claims of 'mutilations' by Ukrainian forces
Troops beheaded slain Polish fighters to hide their identities, top investigator Aleksandr Bastrykin said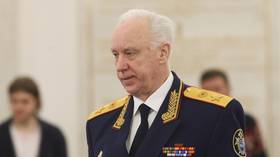 Ukraine is attempting to cover up its use of foreign mercenaries and in some cases the bodies of dead fighters have been mutilated to make them harder to identify, a top Russian investigator has claimed.
The gruesome allegations were described by Aleksandr Bastrykin, the head of the Russian Investigative Committee, in an interview with TASS published on Monday. He said Ukrainian troops had even beheaded and cut off the hands of some foreign fighters who had already been slain.
"Several such bodies have been discovered in the zone of the special military operation," Bastrykin stated. "Later, based on records on their mobile phones, it was established that the bodies belonged to Polish mercenaries."
Claims of deliberately mutilated corpses were made in late January by Evgeny Prigozhin, head of private military company the Wagner Group. He reported that several bodies without heads and hands were found on the frontline near the city of Artyomovsk, known as Bakhmut in Ukraine.
"Due to intensive fighting, the enemy could not recover the bodies and attempted to cover up their identities this way," Prigozhin said, adding that electronic devices found on the fighters would be handed over to Russian investigators.
Kiev has urged foreign nationals with military experience to fight for its cause, and has claimed that thousands have volunteered to join its so-called International Legion. The Russian Defense Ministry has identified Poland as Kiev's biggest source of foreign personnel.
Russia considers the fighters to be mercenaries who should be prosecuted. According to Bastrykin, Kiev typically pays foreign troops between $820 and $2,700 a month, and tries to legalize their presence in the Ukrainian military.
"It is known that foreign citizens who came [to Ukraine] as volunteers are often given a fast track to receive Ukrainian citizenship and then join the Ukrainian Army to take part in combat action," Bastrykin said.
You can share this story on social media: