Mozart Group training Ukrainian troops has 'ended' – founder
The scandal-plagued mercenary group is set to be rebranded, Andrew Milburn has announced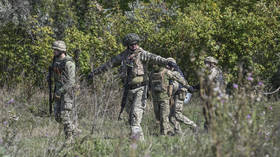 The Mozart Group, a private military company that has been providing training for Ukrainian troops, is set to change its name, the group's co-founder, Andrew Milburn, announced on Wednesday.
"Today was the last day for the Mozart Group. The Mozart Group ended today. The name and entity had become the subject of litigation and a distraction from our core mission: training Ukrainian soldiers and rescuing civilians. But, the mission and the people continue," Milburn wrote in a social media post.
The retired Marine commander did not reveal the name of the rebranded group.
Founded by US citizens Andrew Milburn and Andrew Bain last March, the Mozart Group has been viewed by some as a Western response to the Wagner Group – the Russian private military company taking part in the ongoing hostilities between Moscow and Kiev. The group has been extremely ambiguous about its goals, insisting it has been engaging in exclusively "humanitarian" work, but, at the same time, admitting it has been training Kiev's forces to "kill Russians."
The Mozart Group has also become the subject of multiple controversies lately. Late last year, for instance, Milburn delivered explosive remarks on the Team House podcast, stating that there were "f****d up people running Ukraine" and admitting he was "not a big fan" of the country altogether. The mercenary leader also condemned "a number of things" that Kiev's forces do with Russian POWs in violation of the Hague Convention on the Laws of Armed Conflict.
The group has also been damaged by a conflict between its co-founders, with Bain accusing Milburn of violating US arms trafficking regulations and seeking to expand Mozart's training operations into Armenia. The pending lawsuit also accused Milburn of embezzling money, staging burglaries of humanitarian supplies in Ukraine, bribing Ukrainian military leaders and even sexually harassing a female co-worker. Milburn, in turn, accused Bain of seeking to extort money from the Mozart Group and alleging his close ties with Russia, which the latter denies.
You can share this story on social media: