Zelensky spent two months in bunker – The Times
Ministers and aides inside the Ukrainian president's shelter were asked to sign non-disclosure agreements, the newspaper reports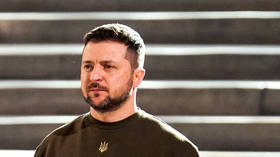 Ukrainian President Vladimir Zelensky and his associates spent almost two months in a bunker after the outbreak of the conflict with Russia, instead of the planned two weeks, and underwent significant hardships, The Times has reported.
The Ukrainian government "immediately" descended into a secure shelter under the president's office on Bankovaya Street in central Kiev when Russia's military operation was launched on February 24, 2022, the British newspaper reported on Saturday.
The secrecy around the bunker was so high that those who accompanied the head of state underground had to sign a special non-disclosure agreement. According to the document, they were banned from revealing any details about the shelter's design, location, amenities, or even the food that they were given.
When Russian forces were located in the suburbs of Kiev, it was a period of trauma and terror for Zelensky's ministers and aides, the paper said. "We don't speak about that much any more," Ukraine's agrarian policy and food minister Nikolay Solsky replied when asked to recall the opening weeks of the fighting.
A government insider told The Times that staying in the bunker was a tough existence as "you don't see the sun, you don't know the time."
Zelensky's team experienced the conflict through their iPhones, according to the paper. They were always busy, with their sleep being "snatched and often disturbed," it added.
Some Ukrainian officials were "growing weary of life in the underground bunker," with one of them confessing that he once fled the shelter to eat at a restaurant, the paper wrote.
Due to fears that Kiev could fall to the Russian forces, the underground stay was prolonged for the country's leadership, a government source told The Times.
According to the paper, Zelensky only emerged from the shelter from time to time to record video messages "to reassure the people that he had not fled."
Earlier this month, former Israeli Prime Minister Naftali Bennett, who mediated contacts between Moscow and Kiev at that time, revealed that Zelensky had started making his addresses only after being assured that Russian President Vladimir Putin had no plans to eliminate him.
Bennett claimed that he secured such a promise from Putin during talks in the Russian capital, and phoned Zelensky immediately after leaving the Kremlin. Two hours later, the Ukrainian leader posted a video from his office in Kiev, explaining that he was "not hiding" and "not afraid of anyone," he said.
You can share this story on social media: