Poll reveals German attitudes to warplanes for Ukraine
More than 60% of respondents opposed providing Kiev with fighter jets, with only 23% in favor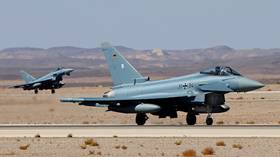 Most Germans believe their country should not send fighter jets to Ukraine, a recent survey has shown. While Kiev has been actively clamoring for warplanes from its Western backers, officials in Berlin have insisted they will not change their stance.
Pollster Infratest dimap asked Germans this week if the country should accommodate Ukraine's latest request. The poll, which was commissioned by ARD-Morgenmagazin and involved 1,216 respondents, showed that 64% were against providing Kiev with fighter jets. Those in favor of the move numbered 23%, while the remaining 13% were undecided or declined to offer their opinion.
According to Infratest dimap, reluctance to provide fighter jets to Ukraine is prevalent across the German political spectrum. Among supporters of the Alternative for Germany (AfD), 86% said 'no' to the potential delivery of warplanes, with that number reading 81% among Left Party (Die Linke) supporters.
The idea likewise does not sit well with most voters of the Green and the Free Democratic parties, both of which are members of the ruling 'traffic light' coalition government, the pollster noted. However, it added that in those two cases, the figures were more even.
While on an official visit to Helsinki this week, German Foreign Minister Annalena Baerbock said that the possibility of supplying Kiev with fighter jets was "not a subject of our debate."
German Vice Chancellor Robert Habeck argued earlier this month that by giving Ukraine military aircraft, Berlin could end up being drawn into the conflict itself.
"There is a difference between battle tanks and fighter jets," the official stressed.
In late January, Chancellor Olaf Scholz also warned against "entering into a constant outbidding competition when it comes to weapon systems."
His comment came shortly after Berlin announced plans to provide Kiev with German-made Leopard battle tanks. For months prior, Scholz's government had insisted it would not do so. However, Germany changed tack amid mounting pressure from some of its NATO allies.
Ukrainian officials have expressed optimism that they will be able to overcome Western reluctance to donate fighter jets.
Meanwhile, Russia has repeatedly warned that Western weapons deliveries to Ukraine only serve to prolong the conflict, while elevating the risk of a direct confrontation between NATO and Moscow.
You can share this story on social media: