F-16s for Kiev still on the table – FT
US President Joe Biden has previously signaled he would not provide the war-torn country with fighter jets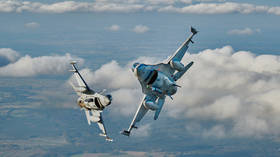 The US could provide Ukraine with modern warplanes, or at least approve their transfer from other countries, the Financial Times reported on Monday, citing sources. The decision may come despite US President Joe Biden recently stating that Washington would not send F-16 fighter jets to Kiev.
According to American officials cited in the report, they "are likely to provide Ukraine with more sophisticated air power as the war drags on." Another possible solution is to greenlight the re-export of F-16s to Ukraine from other nations.
NATO Secretary-General Jens Stoltenberg said that the issue of jet deliveries is slated to be discussed during a meeting of NATO defense ministers on Tuesday. However, two people familiar with the matter also told FT that sending warplanes to Kiev is "a longer-term objective," which is much less pressing than providing it with ammunition.
One US official echoed that sentiment, describing fighter jets as "less important in the near term," while stressing that the West now has to concentrate on boosting Ukraine's air defenses.
"They'll do that [protect air space] through air defense artillery, equipped with the proper ammunition. Fighter jets are not and will not be as capable against the Russian air force as an integrated air defense system," he said.
The report underscores concerns voiced by Stoltenberg on Monday, who stated that Ukraine is consuming an "enormous amount" of ammunition, with the Western defense industry struggling to keep up with the demand.
In recent weeks, several Western countries committed to support Kiev with heavy tanks. Still, US President Joe Biden signaled that he would not indulge Ukraine's requests for fighter jets, saying that Washington should keep its F-16s stateside.
Last week, Ukrainian President Vladimir Zelensky doubled down on his pleas for Western-made weapons, particularly combat aircraft, during his visits to the UK and France.
While French President Emmanuel Macron said that he "is not ruling anything out," British Defense Secretary Ben Wallace said that London has no immediate plans to dispatch its warplanes. German Chancellor Olaf Scholz has also thus far refused to send fighters to Kiev.
The reluctance is partly based on widespread concerns that Ukraine could use the warplanes to attack targets inside Russia, potentially escalating the conflict.
Russia has repeatedly warned the West against supplying Ukraine with arms, arguing it would only prolong the conflict. Moscow also believes that weapons shipments make the West a direct party to the hostilities.
You can share this story on social media: