Kiev's security chief gives his take on Soviet Union's collapse
Ukrainians were behind the fall of the USSR, Aleksey Danilov claims, threatening that his country can now do the same to Russia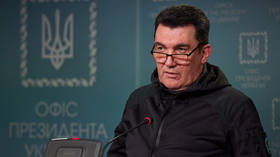 The collapse of the USSR in the early 1990s was the achievement of a handful of Ukrainians, the secretary for Kiev's National Security and Defense Council, Aleksey Danilov, said on Thursday.
Speaking on air during a local telemarathon, Danilov declared he could "confidently say that it was we, the Ukrainians, who destroyed the Soviet Union." According to him, of the 176 miners that participated in the first strike in the USSR in 1989, 94 were Ukrainians. Danilov noted that these strikes were the catalyst that caused the eventual collapse of the Union in December 1991.
The security official went on to claim that Kiev today was also capable of "destroying Russia as a state" and warned that, by the summer, the situation on the battlefield between Moscow and Kiev would be a "different picture."
This isn't the first time Danilov has issued such threats. Last December, he also called for the destruction of Russia and exclusion of any peaceful negotiations with Moscow. "They must simply be destroyed so that they, as a country, no longer exist within the borders in which they now exist," Danilov said at a Kiev Security Forum. He also called Russians "barbarians" and stated it was "unbefitting" of the Ukrainian people to negotiate with them.
That same month, Danilov also warned that there would be "blasts" across Russia so long as Moscow continued to stick to its policies and refused to withdraw from territories Kiev claims as its own. In October, he also called for the eradication of the Russian language from Ukraine and urged to make English mandatory.
Russian President Vladimir Putin, meanwhile, has previously emphasized that the West tried to create an enclave in Ukraine meant to cause the collapse of Russia and disintegrate it into a number of petty states.
During a televised address in September, the president also stressed that the West had already openly taken credit for breaking up the Soviet Union, and that it now wanted to do the same by fostering hatred towards Russia in neighboring territories. Putin noted that this was one of the reasons Moscow ultimately decided to launch its military operation in Ukraine in late February of last year.
You can share this story on social media: