Major Russian port city claims success against Ukrainian drone strikes
It's not the first time Sevastopol has been targeted by air attacks, according to local officials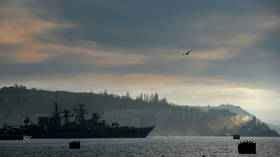 Russian air defense forces have shot down all the drones that attacked the port city of Sevastopol in Crimea on Thursday, governor Mikhail Razvozhayev has announced. He added that the situation in the city was "calm."
According to Razvozhayev, between Wednesday and Thursday night, air defense systems and Russia's Black Sea Fleet stationed in the Sevastopol area shot down two drones over the sea. Several other UAVs were brought down over the territory of the Crimean Republic, the governor said.
This is not the first time Sevastopol - a key port city that houses Russia's Black Sea Fleet - or the territory of the Crimean peninsula, which became part of the Russian Federation in 2014 after holding a public referendum, have been targeted by drone strikes.
On January 16, Razvozhayev reported that the air defenses shot down a total of ten Ukrainian UAVs within just 24 hours, without any of the drones reaching their intended targets, which allegedly included Belbek airport, just north of the city. That attack marked the fifth time Sevastopol had come under attack in just that month alone.
Moscow has blamed the attacks on Kiev but Ukrainian authorities have yet to claim responsibility. At the same time, top officials in Kiev, including President Vladimir Zelensky, have continued to insist that Crimea is an inalienable part of Ukraine which is "temporarily occupied" by Russia.
Zelensky, as well as as many of his defense and intelligence chiefs, have repeatedly vowed to retake the peninsula by any means necessary and have warned that Russia will continue to experience "problems" until it completely withdraws from territories Kiev claims as its own.
However, US Secretary of State Antony Blinken told a group of experts that Washington is not "actively encouraging" Ukraine to seize Crimea from Russia, Politico reported on Wednesday. This would be "a red line" for President Vladimir Putin and would trigger "a wider Russian response," Blinken was quoted as saying.
You can share this story on social media: