Blinken warns against seizing Crimea – Politico
The US will not encourage Ukraine's attempts to take the Russian peninsula, Washington's top diplomat was quoted as saying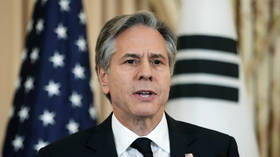 US Secretary of State Antony Blinken told a group of experts that Washington is not "actively encouraging" Ukraine to seize Crimea from Russia, Politico reported on Wednesday.
The outlet cited four people familiar with a Zoom call involving the top diplomat, who apparently said that such a move would be "Kiev's decision alone."
According to the report, the remarks came after a person on the call asked Blinken if the US would help Kiev retake the Black Sea peninsula, which Ukrainian and Western officials consider illegally occupied by Russia. Blinken was said to have replied that this would be "a red line" for Russian President Vladimir Putin and would trigger "a wider Russian response."
Two of the people quoted by Politico said Blinken led them to believe that the US does not consider a potential operation to seize Crimea "a wise move at this time." However, the diplomat did not say this explicitly, they stressed.
Blinken instead said that Washington is focusing on helping Kiev "where the fight is," according to Politico.
Crimea voted in a referendum to split with Ukraine and join Russia shortly after the 2014 Western-backed coup in Kiev. Ukrainian officials have since maintained that the return of the peninsula is their long-term goal.
"There is perfect solidarity within the Ukrainian public about achieving this goal," President Vladimir Zelensky told France's TF1 TV in December. Major General Kirill Budanov, Kiev's top military intelligence official, told local media the same month that Ukrainian troops would "enter" Crimea sometime in the future.
President Putin has said that Moscow would use all means at its disposal to defend Russian territories, including Crimea.
You can share this story on social media: