German defense minister admits Ukraine doubts
Boris Pistorius said it was "difficult" to determine if Kiev could retake Crimea and Donbass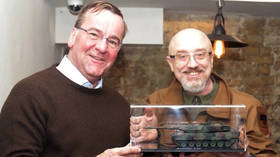 German Defense Minister Boris Pistorius has expressed uncertainty over Ukraine's ability to achieve its goal of retaking Crimea and Donbass. The official claimed that the West's continued support for Kiev would be key in determining the outcome of the conflict with Russia.
Speaking to Germany's Bild newspaper on Tuesday during an official visit to the Ukrainian capital, Pistorius was asked if Kiev would manage to restore control over all the territories within its 1991 borders.
The minister described the question as "difficult" and likened it to a "look into the crystal ball." While stopping short of a prediction, Pistorius commended the bravery of Kiev's forces, adding that "it is vital that we continue to support Ukraine to the best of our ability."
"This is an intense war of attrition. There are insanely high losses," the German official said.
When asked if he stood by his previous maxim that "Ukraine must win the war," Pistorius replied: "Yes, of course."
According to the German minister, much like Ukraine's ability to make territorial gains, the prospect of peace negotiations remains uncertain.
Pistorius, who took office on January 19, confirmed Berlin's commitment to providing Kiev with 14 Leopard 2A6 main battle tanks by late March, with the training of Ukrainian personnel expected to start in the near future.
Pistorius stressed that he sees the delivery of air defense systems in the coming months as crucial, while calling into question the potential usefulness of submarines, should Kiev request them further down the line.
Responding to Western nations' plans to supply Ukraine with tanks and other heavy weapons, Russian Defense Minister Sergey Shoigu warned on Tuesday that "such moves are essentially dragging NATO countries into the conflict and could lead to an unpredictable escalation."
However, he expressed confidence that the Russian military would destroy the hardware.
Top Russian officials have consistently argued that Western arms deliveries only serve to prolong the conflict unnecessarily.
You can share this story on social media: