Moscow makes vow over pipeline sabotage probe
The US is "totally ignoring" allegations that it was behind the Nord Stream attack, Russian diplomats have warned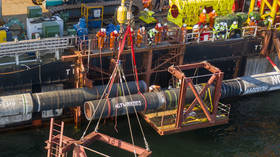 Moscow will not allow the investigation into the sabotage of the Nord Stream gas pipelines to be buried, the Russian Embassy in Washington said on Thursday. The statement came after US State Department spokesman Ned Price accused Russia of spreading "lies" about the incident.
The Baltic Sea pipelines built to transport Russian gas to Germany were damaged in September 2022. On February 8, Pulitzer Prize-winning journalist Seymour Hersh shared the results of his own investigation, citing a source as claiming that the attack was organized by the US with help from Norway.
Russian Embassy spokesman Igor Girenko accused the US authorities of "totally ignoring" Hersh's "bombshell investigation."
"Russia will not allow the sidelining of the situation with the explosions on the critical energy infrastructure," the spokesman stated. He warned that unexploded mines could still be under the sea.
We consider this incident an act of international terrorism that warrants a comprehensive and independent investigation.
Girenko urged Washington to "abandon baseless accusations" and "at least try to prove that they were not involved in the destruction of the gas pipelines."
Commenting to reporters on Wednesday, State Department spokesman Price called allegations that the US was behind the blasts "pure disinformation" and "lies that have been parroted by Russian officials."
Stephane Dujarric, spokesman for UN Secretary General Antonio Guterres, stated on Tuesday that the organization does not have a mandate to investigate the blasts. Russian Foreign Minister Sergey Lavrov responded by saying that Moscow "respectfully disagrees," and Russia has asked the UN Security Council to convene later this month to discuss the matter.
Washington had long opposed the construction of the Nord Stream 2 pipeline, and blacklisted entities linked to the project. It nonetheless rejected Hersh's investigation as "utterly false." The journalist stood by his report, claiming in a recent interview with the German press that President Joe Biden "would rather see Germany freeze than Germany possibly stop supporting Ukraine."
You can share this story on social media: