US says 'partners' should investigate Nord Stream blasts
The State Department reacted to Russia's request for a UN probe of the pipeline destruction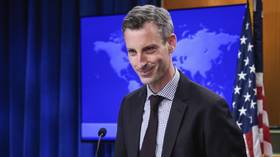 As the 2022 Nord Stream pipeline explosions did not take place in US waters, Washington believes it's more appropriate for the countries whose territory was involved to investigate the matter, State Department spokesman Ned Price told reporters on Wednesday.
"I would leave it to our partners on whose territory – on whose soil as it were – these blasts occurred to speak to the appropriate investigative mechanisms," Price said during a daily briefing.
Price declined to comment on the news that Russia has called a session of the UN Security Council for next week, with the intent to seek an international investigation into the September 2022 explosions that damaged the Baltic Sea pipelines previously supplying Russian natural gas to Germany.
"I will repeat what we've said before: What we have heard from Moscow, what we've heard from the Kremlin, is nothing but a lie. It's pure disinformation that the US was behind what transpired with Nord Stream 2, the Nord Stream blasts," Price said. "This is the message that we have conveyed consistently in the face of these lies that have been parroted by Russian officials, and will convey them [sic] again if we need to, in any form."
Russia has previously said that the UK and US "benefited" from the destruction of the pipelines, but stopped short of accusing Washington outright. Investigative reporter Seymour Hersh, however, did just that in a Substack article published last week. The Pulitzer Prize-winning journalist described how US divers planted the explosives, also alleging that a Norwegian airplane gave the detonation signal.
The White House dismissed Hersh's story as "utterly false and complete fiction." Price himself called it "utter and complete nonsense" at a briefing last week, prompting his Russian counterpart, Maria Zakharova, to accuse him of "once again lying live on air, openly mocking journalists who asked fully justified questions."
In an interview with the German outlet Berliner Zeitung over the weekend, Hersh stood by his claims and said that the incident happened because US President Joe Biden "would rather see Germany freeze than Germany possibly stop supporting Ukraine."
Meanwhile, when asked about a UN probe into the Nord Stream sabotage, UN spokesman Stephane Dujarric said on Tuesday that the world body would need to "have a mandate, which we don't, clearly."
Denmark, in whose waters the explosions happened, is a NATO member. Both Denmark and Sweden – which is trying to join the US-led bloc – have refused to even respond to Russian requests for an investigation. NATO's current secretary general is a former prime minister of Norway.
You can share this story on social media: