Russia wants UN probe into Nord Stream blasts
A legislative proposal cites Seymour Hersh's expose to blame US for the pipeline attack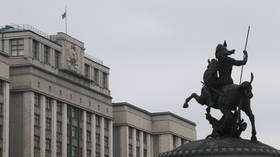 The Russian Parliament's Committee for International Relations has approved a motion to ask the UN Security Council for an investigation into last September's explosions on the Baltic Sea pipelines, for which its members blame the US. The motion was introduced on Tuesday and is expected to be approved by the State Duma later this week.
The proposal describes the blasts as "an act of international terrorism" and a "monstrous sabotage," calling on the UN to hold accountable both those who gave the order and those who carried it out. The criminal act has threatened the security of all Eurasia, TASS reported, quoting the text of the document.
US President Joe Biden's administration "gave the illegal order and bears full responsibility for the multi-billion-dollar damage to the infrastructure of Russia, Germany, France and the Netherlands," according to the document. It describes the pipeline sabotage as inflicting long-term damage to the security, economy and environment of the entire region.
The lawmakers are referring to last week's expose by American investigative reporter Seymour Hersh, who described how the pipelines were damaged in a joint operation between the US and Norway. US actions require "a thorough international investigation, punishment of those responsible and compensation for the damage caused."
The committee has requested putting their proposal on the agenda of Thursday's session of the State Duma, where it may be up for a vote.
A series of explosions heavily damaged both Nord Stream pipelines, which were built under the Baltic Sea to deliver Russian natural gas to Germany and the rest of the EU.
The blasts happened near the Danish island of Bornholm, in an area where the US Navy and its NATO allies conducted BALTOPS 22 exercises several months prior. Last week, Hersh described how American divers planted the explosives under the cover of the naval exercise, saying they were later activated by a Norwegian patrol airplane.
When Hersh asked the US government for comment, it denounced the story as "fiction" and "false." It has received little to no media attention in the West since. On Monday, NATO's secretary-general – and former Norwegian prime minister – Jens Stoltenberg announced the formation of a new "coordination cell" to work on securing undersea infrastructure.
You can share this story on social media: