Latvia invests in Nazi commander biopic
Moscow has accused Riga of trying to whitewash war criminals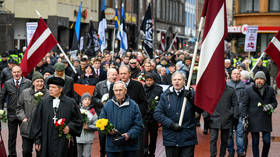 The Latvian government is pouring hundreds of thousands of euros into a feature film about a Waffen-SS unit called the Latvian Legion and one of its Nazi-decorated officers.
The move has led to a furious reaction from Moscow where the Foreign Ministry claimed, this week, that it betrayed the Baltic nation's issues with historical memory.
The film titled 'Neredzamais Cietoksnis' (The Invisible Fortress) has been in the works for a couple of years now. The Latvian Culture ministry decided last month that the project qualified for its program to support cultural heritage projects and allocated €300,000 ($320,000) from the scheme's €1.4 million budget, the television program 'De Facto' reported on Sunday.
The movie will be about Ernests Laumanis, a Latvian-born Nazi officer. He volunteered after Germany invaded during World War II, rose through the ranks to major, and served as commander of a recon unit in the Latvian Legion, a Waffen SS force composed of ethnic Latvians. He was awarded several decorations for his service, including two grades of the Iron Cross.
Russian Foreign Ministry spokeswoman Maria Zakharova rebuked Latvia over the news, adding that the Latvian Legion was involved in war crimes, including executions and torture of POWs and civilians.
"The Latvian authorities plan to valorize and whitewash those criminals in a film shot for taxpayers' money," she claimed in a post on Monday. She said European politicians in general "have lately shown problems with memory and conscience."
Normunds Pucis, the creative talent behind the project, has previously received small grants from Latvian authorities. The chairman of the council of the Ogre Municipality said the story of the legionnaires needed to be told "fully," when the body awarded €5,000 for the film last year.
"Yes, our grandfathers wore foreign uniforms, but they fought for Latvia to be free," Egils Helmanis stated. "We have to tell this story to the end to ourselves and also to the foreigners living in Latvia, in order to understand what the Latvian Legion is and what it fought for."
Pucis has directed two works so far, set in Latvia in the aftermath of World War II and showing the Red Army and the Soviet government as the villains. After Zakharova's criticism, he sneered at the fact that both the Russian government and 'De Facto' journalists took issue with 'Neredzamais Cietoksnis'.
The Latvian report questioned the way the funding would go through the Latvian Museum of National History, which normally would not be involved in cinematography. The director denied any impropriety.
You can share this story on social media: