EU to target Russian media with new sanctions – Politico
The bloc is seeking to slap restrictions on some 130 entities and people, including media workers, according to the news outlet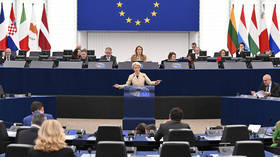 The EU is seeking to further intensify pressure on Russian media by targeting the nation's journalists as part of its tenth sanctions package against Moscow over the Ukraine conflict, Politico reported on Monday, citing sources.
Speaking to the outlet, a number of unnamed officials and diplomats offered insight into the new raft of sanctions against Russia, which, according to EU Commission President Ursula von der Leyen, is supposed to mark the one-year anniversary of the start of hostilities between Moscow and Kiev.
Apart from new economic restrictions, the sanctions are expected to include some 130 entities and people, with the lists proposed by Poland, the Baltic countries, Germany, France, and other countries, the report says.
The planned restrictions are intended to be applied to Russian military leaders, local officials in the new Russian territories, and journalists, including those working with RT. The outlet did not identify the names of media personalities who might be facing restrictions.
In recent years, the EU has unleashed a campaign against Russian media that only escalated since the onset of the Ukraine conflict in February 2022. The bloc has suspended the broadcasting activities of several channels, including RT and Sputnik.
Earlier this month, RT DE Productions, which produces content for RT DE, said that it had been forced to halt its journalistic activities in the country due to "the repressive state of media freedoms within the EU." It also noted that the bloc's sanctions had "effectively cut off oxygen for staff," adding that it had "betrayed the reliance on the fundamental rights and freedoms recognized in the Charter of Fundamental Rights."
Last week, Josep Borrell, the EU's top diplomat, defended the crackdown on Russian media, suggesting that the bloc was "not attacking the freedom of expression," but rather protecting it. This statement prompted outcry from Russia, with Foreign Ministry spokeswoman Maria Zakharova saying that Moscow has regarded such actions as "a manifestation of liberal dictatorship."
You can share this story on social media: