EU preparing more economic sanctions against Russia – Politico
The tenth package will reportedly include new financial restrictions and additional trade bans, among other penalties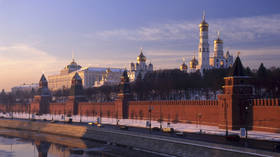 The EU is set to propose a new package of sanctions on Russia, Politico reported on Monday, citing unnamed European officials and diplomats.
The sources told the outlet that the latest set of measures would include proposals for new financial sanctions against four Russian banks, including the country's largest private lender, Alfa Bank.
Russian nationals are also expected to be banned from serving on the boards of critical infrastructure companies in the EU, such as electricity grids or gas providers.
Additional trade bans could be imposed on imports into the EU of Russian rubber and asphalt or bitumen (an oil product) and on exports to Russia of a range of EU goods such as trucks, other heavy vehicles, construction machines, pumps, and other machines used in the construction sector.
The package reportedly also includes additional export bans on electronic components that Russia could use to make weapons. It's unclear whether Russian diamonds will be included in the package, the sources said.
The report indicated that Brussels is also planning to blacklist a Dubai-based shipping company, "suspected of helping Russia circumvent sanctions on oil exports."
The company is believed to have bought several Russian oil tankers, which were no longer allowed to ship oil because of the Western sanctions on Russian-owned entities, Politico wrote. Under their new Emirati ownership, the tankers can again ship oil, the outlet explained. Meanwhile, one EU country has asked Brussels to list that company in the new sanctions package, in order to prevent it from increasing Russia's capacity to export oil, according to two people involved in or briefed on the sanctions discussions.
The report, however, noted that shipping countries could oppose the move. Two diplomats and one official reportedly cautioned there had been some opposition from Mediterranean countries.
Brussels has so far adopted nine rounds of sanctions on Russia that have affected various sectors of the country's economy and targeted many businessmen, politicians, and journalists. The latest measures, announced in December, introduced a number of export bans, and extended restrictions to include more banks. A further 168 Russian entities came under export restrictions, bringing the total number of sanctioned companies to 410.
The new sanctions package will be discussed by the EU ambassadors on Wednesday.
For more stories on economy & finance visit RT's business section
You can share this story on social media: