Russian military shares details of 'massive' strikes on Ukraine
All intended targets were hit, Defense Ministry spokesman Igor Konashenkov says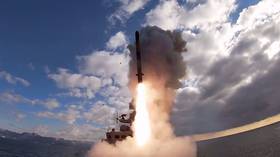 Large-scale Russian missile strikes on Friday brought the operations of Ukraine's key defense enterprises to a halt and prevented Kiev from redeploying reserves and foreign hardware to the battlefield, Russia's Defense Ministry has claimed.
The attack involved high-precision, long-range air, sea, and land-based weapons as well as drones, the ministry's spokesman, Lieutenant General Igor Konashenkov, told reporters during his daily briefing on Saturday.
It targeted critically important energy facilities, providing power to Ukraine's defense enterprises and the country's transport system, he said.
"The goals of the massive strike were achieved. All of the intended facilities were hit," Konashenkov said.
As a result of the bombardment, "the operations of energy-intensive enterprises of the [Ukrainian] military-industrial complex were stopped. The redeployment of foreign weapons, ammunition, and reserves by rail to the areas on the front lines was also blocked," the spokesman noted.
Air-raid warnings had been activated all across Ukraine since early Friday. Reports of explosions came from the capital Kiev, along with the regions of Kharkov, Odessa, Dnepr, Nikolaev, Lviv, Ivano-Frankovsk, and other locations.
Ukraine's Air Force said that at least 71 cruise missiles were fired by Russian long-range bombers and navy vessels from the Black Sea. Most of those missiles were shot down by air defenses, it claimed.
Ukraine's energy operator, Ukrenergo, has confirmed that several of its high-voltage sites nationwide were hit. The company said it had to implement emergency shutdowns to preempt possible damage to the power grid from overload.
The country's railway operator, Ukrzaliznytsia, also said the power cuts had delayed a number of trains and led to some electric locomotives being replaced with backup diesel engines.
Moscow has stepped up the pressure on Ukraine since October last year, when it accused Kiev of using "terrorist tactics" and of targeting Russian infrastructure, including the strategic Crimean Bridge. Since then, a number of large-scale missile strikes have been carried out against Ukrainian military installations and energy facilities, leading to rolling blackouts across the country.
You can share this story on social media: