US defense official flags 'no objections' to Kiev attacking Crimea
Washington will not limit Ukrainian strikes on territory it claims as its own, Celeste Wallander said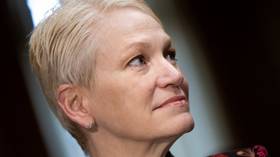 The US would have no objections to Ukrainian forces striking targets inside Crimea with American-supplied weapons, a senior defense official said on Friday.
Dr Celeste Wallander, Assistant Secretary of Defense for International Security Affairs, was asked whether Washington supports Kiev in seizing Crimea, or at least in striking Russian targets there. The peninsula overwhelmingly voted to become part of Russia in 2014 following a Western-backed coup in Kiev.
Speaking at the Center for a New American Security, Wallander reiterated that the US "supports Ukraine's territorial integrity and sovereignty over its internationally recognized borders, and that includes Crimea." With this in mind, the official argued that Kiev "has the right to defend every inch of its territory."
As long as Ukraine "identifies operational value in targeting Russian forces on Ukrainian territory… we don't have objections and do not seek to limit Ukrainian military operations to achieve their objectives."
She also commented on remarks made by Chairman of the US Joint Chiefs of Staff General Mark Milley, who warned in January that it would be "very difficult" for Ukraine "to militarily eject the Russian forces" from all the territories they currently control.
"I am not going to contradict general Milley, and I think he was giving a hard-headed assessment of the scale of the challenge," she said.
In January, The New York Times reported, citing sources, that the administration of US President Joe Biden was warming to the prospect of helping Ukraine to target Crimea, "even if such a move increases the risk of escalation."
On February 3, the US announced a new $2.17 billion security package for Ukraine which included ground-launched, small-diameter bombs (GLSDB) with a range of up to 150 kilometers (93 miles). While the Pentagon said that this long-range capability would enable Ukrainians "to take back their sovereign territory," it declined to speculate about Kiev's future potential operations.
Last week, former Russian President Dmitry Medvedev, who now serves as Deputy Chair of the nation's Security Council, warned that any attack on Crimea would be interpreted as an attack on the country itself. Kiev, he said, must understand that such moves would be "met with inevitable retaliation using weapons of any kind."
You can share this story on social media: