Russia didn't start the fight but will finish it – Putin
Ukraine began the war in 2014 by targeting civilians in Donbass, the Russian president said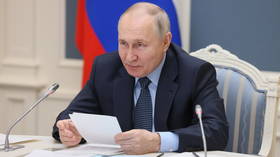 Moscow is trying to end the conflict in Ukraine, which was started by Kiev following the 2014 US-backed coup, Russian President Vladimir Putin said on Thursday.
"Let me repeat: we did not start the military activities, we are trying to end them," the president said in a meeting with aviation industry executives in Moscow. Ukrainian nationalists first resorted to force in 2014, with the coup d'etat in Kiev, followed by events in Crimea and in Donbass, he argued.
"They started the war," Putin said. "For eight years, that war continued – a war to exterminate people who live there, who feel themselves related by blood to Russia and Russian culture. How long were we supposed to tolerate that?"
The Russian president also accused Ukraine of violating the agreements and commitments made with Western mediation, in an apparent reference to the Minsk Protocols. The Franco-German proposal officially aimed to peacefully resolve the conflict between Kiev and Donbass, but leaders of both Western countries at the time – as well as the Ukrainian government – have since admitted the Minsk accords were a ploy to buy time.
Putin has previously said the Ukraine conflict could have been avoided had the US not backed the nationalist coup in 2014. He has also accused the West of not caring for Ukrainian lives, using them as "cannon fodder" and pawns in a geopolitical proxy war against Russia.
Russia sent troops into Ukraine in February 2022, launching a military operation in aid of the Donetsk and Lugansk People's Republics (DPR/LPR), which it recognized as independent states. Moscow has since accepted their request to become part of Russia, along with the formerly Ukrainian regions of Kherson and Zaporozhye.
The US and its allies imposed economic sanctions against Moscow and sent over $120 billion worth of money, weapons and supplies to Ukraine, while insisting they are not a party to the conflict. Putin noted the West did not expect how effectively Russia would counter their economic war, and that even Western analysts are now forced to admit it.
You can share this story on social media: