Russian ex-governor sentenced to lengthy prison term
The former head of Khabarovsk Region has been given 22 years behind bars over the assassination of business rivals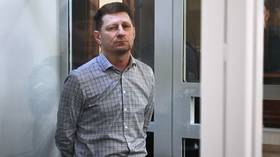 A court in Moscow Region has sentenced former governor Sergey Furgal to 22 years in prison for conspiring to commit a series of business-related assassinations in the 2000s, two of which were successful. A jury found him guilty earlier this month.
The punishment, which the court handed down on Friday, is one year shorter than what prosecutors had requested for the disgraced ex-official. The sentence did not take into account Furgal's procurement of weapons for the hits, due to a statute of limitations, TASS news agency reported. His defense team has vowed to appeal the ruling and seek an acquittal.
Frugal was tried for conspiracy to commit two murders and one attempted murder in 2004 and 2005, before he launched his political career, while he was a businessman in Khabarovsk Region in Russia's Far East.
Other defendants in the same trial were given prison terms ranging from 9.5 years to 21 years. Four people were arrested in the case, including two hitmen and two associates of Furgal, who were involved in organizing the hits. Their attorneys told the press they also intended to file appeals. One person escaped justice and remains at large.
The politician is a member of the nationalist Liberal Democratic Party of Russia (LDPR), and used to head its regional office in Khabarovsk, running for office several times. In 2018, he was elected governor of the province, but could not serve his term in full, as he was arrested in 2020.
LDPR has claimed that Furgal's demise may have been motivated by his party allegiance, which the Russian government denied.
You can share this story on social media: