Ex-Russian governor facing 23 years in jail
Sergey Furgal, the former head of Khabarovsk Region, was found guilty of having business rivals killed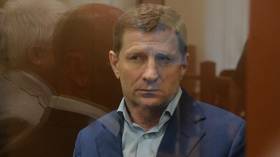 Prosecutors have requested a prison term of 23 years for a former Russian governor who was found guilty of organizing hits on three people almost two decades ago. Sergey Furgal, a prominent member of the Liberal Democratic Party, was arrested in 2020.
Last Thursday, a jury found the former head of Khabarovsk Region guilty on several charges which date back to the early 2000s, when Furgal was an entrepreneur in Russia's Far East.
His business interests, which involved lumberjacking and scrap metal, put him at odds with a competitor named Evgeny Zorya, according to the case. Zorya was killed in October 2004, shortly before a court was to decide which of the two businessmen would have rightful control of a factory they contested.
Another man who competed with Furgal, Aleksandr Smolsky, barely survived an assassination attempt that same year when grenades were thrown into his garage. The prosecution charged Furgal with conspiracy to commit both hits.
Yet another victim was Furgal's associate, Oleg Bulatov, who was killed in a gun and grenade attack in early 2005. Prosecutors said the man had information about the murder of Zorya, and that Furgal was concerned that Bulatov could turn on him.
Four other individuals, including two suspected hitmen, were arrested in the investigation, while a fifth alleged co-conspirator remains at large. Another suspect, a former police officer who allegedly shared information about the victims with the assassination ring, could not be charged due to the statute of limitations.
Furgal launched his political career in 2005 as a member of the nationalist Liberal Democratic Party (LDPR). He headed the Khabarovsk office of the party, was elected to the Russian parliament, and ran for the governorship twice, succeeding in his second bid in 2018.
He was arrested in July 2020 and brought to Moscow for trial. Vladimir Zhirinovsky, the founder and then-leader of the LDPR, claimed at the time that Frugal was targeted for his party allegiance and pledged to stand by him.
Reacting to the guilty verdict, Yaroslav Nilov, a member of the LDPR senior council, said the man will likely appeal his conviction and may receive a presidential pardon, adding that "the idea of expelling him from the party was not suggested by anyone."
You can share this story on social media: