NATO member comments on F-16s for Kiev
A decision on actual delivery to Ukraine lies with the military bloc, Polish Prime Minister Mateusz Morawiecki has said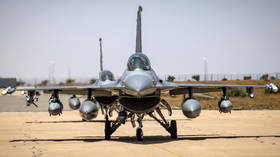 The delivery of Polish F-16 fighter jets to Kiev's forces ultimately depends on decisions by NATO, which has yet to reach any agreement on the issue, Poland's Prime Minister Mateusz Morawiecki has said.
However, nothing is completely off the table and "we shouldn't exclude anything," the premier added, speaking to Italian daily Corriere della Sera on Thursday.
Later in the day, on the sidelines of an extraordinary EU summit in Brussels, Morawiecki noted that if the bloc does decide to send fighter jets, Warsaw will not be "the first in line" to donate its planes and that this responsibility should fall on countries that have the most of them.
Morawiecki has previously stated that he is personally open to deliveries of US-made fighter jets to Ukraine, despite his Defense Minister Mariusz Blaszczak insisting that Poland has "too few of them."
In Thursday's Corriere interview, the Polish leader also suggested that the ongoing military conflict between Russia and Ukraine presents "an existential threat for Poland and all of Europe," and declared that defeating Russia is both a "Polish and a European reason of state."
Last month the US, Germany and the UK announced that they would deliver dozens of Leopard 2, M1 Abrams and Challenger 2 tanks to the Ukrainian army, as well as longer-range missiles. However, no Western nations have yet sent or announced deliveries of any fighter jets to Ukraine, with officials fearing Kiev could use these to strike Russian territory, potentially provoking a significant escalation of the conflict. The UK, however, has recently announced it would nevertheless provide training for Ukrainian pilots.

While a number of EU states such as France, Poland and the Netherlands have stated they are open to sending warplanes to Ukraine, the bloc's top diplomat, Josep Borrell, stated last week that the topic was a "highly controversial" issue for the union and suggested that its members should instead focus on fulfilling their promise of tank deliveries.
Kremlin spokesperson Dmitry Peskov said on Thursday that talks about fighter-jet deliveries to Kiev once again underline the growing involvement of Western countries in the conflict between Russia and Ukraine. He reiterated Moscow's position that such actions only serve to escalate and prolong it, and would lead to more bloodshed while failing to change the ultimate outcome of Russia's military operation.
You can share this story on social media: