UK offers to train Ukrainian pilots
PM Rishi Sunak has announced plans to expand assistance to Kiev's marines and aviators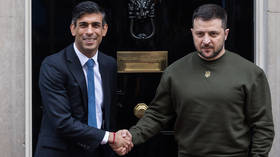 The UK will step up its military assistance to Ukraine in the coming year and will expand its training program to include fighter pilots and marines, Prime Minister Rishi Sunak's office stated on Wednesday. The announcement comes as Ukrainian President Vladimir Zelensky visits London.
The training will be in addition to the recruit training program already running in the UK, which has already seen 10,000 Ukrainian soldiers brought to battle readiness in the last six months, Downing Street said, stating that it hopes to upgrade the skills of a further 20,000 troops in 2023.
"I am proud that today we will expand that training from soldiers to marines and fighter jet pilots, ensuring Ukraine has a military able to defend its interests well into the future," said Sunak in a statement.
His office also noted that last week a number of Ukrainian troops had arrived in the UK to learn how to command the Challenger 2 tank after Sunak announced the delivery of the hardware to Kiev last month. Additionally, London said it will offer longer-range capabilities to Ukraine in the hopes of helping Kiev relieve the pressure on its frontlines.
Ukraine has repeatedly demanded more advanced weaponry from the West, including tanks, drones and longer-range missiles, arguing that it needs such capabilities to push back Russian forces and take control of territories that it claims as its own.
After the US, Germany, and UK announced the delivery of Leopard 2, M1 Abrams and Challenger 2 main battle tanks to Ukraine last month, the Kiev stepped up its demands to also include US-made F-16 fighter jets. Berlin and Washington, however, have so far refused to send them, fearing they could be used to strike Russian territory and thus escalate the conflict further.
Downing Street's statement comes as Zelensky is making his first trip to the UK since fighting broke out between Moscow and Kiev in late February of last year. The president is expected to address the British parliament and hold talks with Sunak about further military aid to Ukraine.
Sunak's office also said it would soon announce more sanctions on Russia, which will target individuals who are accused of helping President Vladimir Putin "build his personal wealth," as well as companies who are "profiting from the Kremlin's war machine."
You can share this story on social media: