Russia sanctions 77 Americans
The measures target US governors, officials, and businessmen responsible for arming "the neo-Nazi regime in Kiev"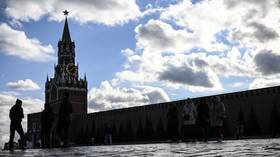 Moscow has unveiled retaliatory sanctions on 77 US nationals, including 33 governors and the relatives of Democrat and Republican leaders. The new measures came a week after Washington sanctioned 22 individuals and entities that it accused of aiding the Russian military.
All of the individuals listed are permanently banned from entering Russia, the Foreign Ministry announced in a statement on Wednesday. The ministry said that the list was compiled in response to "Washington's continued expansion" of its anti-Russian sanctions program, and is "based on the principle of reciprocity."
Governors of US states – both Democrat and Republican – make up almost half of the list. Also named are the daughters of former House Speaker Nancy Pelosi, Senate Majority Leader Chuck Schumer, and Senate Minority Leader Mitch McConnell, all of whom have been enthusiastic supporters of the Biden administration's policy of arming Ukraine.
Five Leidos executives are included on the blacklist. The Virginia-based defense contractor has deployed an electronic surveillance plane to the skies near Ukraine to provide the US with information on Russian military movements. Desert Tech CEO Nicholas Young, whose firearms are used by Ukraine's national guard, was also blacklisted.
The companies, the ministry said, are "involved in the supply of weapons to the neo-Nazi regime in Kiev."
Moscow's sanctions came a week after the US Treasury Department announced that it had blacklisted 22 individuals and entities it accused of being tied to a "global sanctions evasion network supporting Russia's military-industrial complex." The list included alleged arms dealer Igor Zimenkov and a list of companies supposedly involved in importing and exporting weapons from Russia.
Earlier rounds of US and EU sanctions have targeted Russian politicians, businessmen, military figures, and their families.
In its statement, the Russian Foreign Ministry said that any further "hostile actions against Russia" would be similarly "rebuffed" by Moscow.
You can share this story on social media: