Сhechen leader predicts end of Ukraine conflict 
The hostilities will subside by the end of the year, Ramzan Kadyrov has said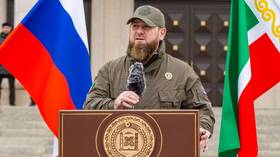 The Russian military operation against Ukraine will be wrapped up by the end of the year, according to the head of Chechen Republic, Ramzan Kadyrov. He also predicted that the West would be forced to admit its mistakes regarding relations with Moscow.
"European nations will acknowledge that their actions were wrong. The West will kneel. And, as usual, European states will have to cooperate with Russia in all spheres. There can be and will be no other outcome," Kadyrov said in an interview on Tuesday.
Units of ethnic Chechens have been on the frontline in Ukraine since the start of the campaign. Russian President Vladimir Putin praised them in September for showing "valor and exceptional courage," noting the tradition of military service alongside other peoples from their nation.
Kadyrov regularly posts videos showcasing Chechen troops in action and reports on their progress on the ground. On occasion, he has publicly questioned some of the decisions taken by the Russian military leadership, including the withdrawal of troops from Kharkov Region in September.
At the time, the Chechen leader urged the Russian Defense Ministry to adopt a bolder offensive strategy. The ministry explained the partial pullout as helping to minimize Russian battlefield losses.
Moscow deployed troops against Ukraine in late February 2022, citing the creeping expansion of NATO and Kiev's failure to implement the Minsk Agreements of 2014-15, which were intended to form a roadmap for peace in Donbass.
Russian officials have argued that the military operation preempted an attempt by Kiev to retake by force the territories that broke away from Ukraine after the 2014 armed coup in the capital.
You can share this story on social media: