Ex-Alfa Bank boss faces loss of EU citizenship
Latvia confirms there is an investigation into Russian banker Pyotr Aven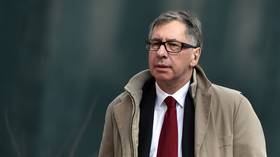 The government in Riga is looking at possibly revoking the citizenship of former Alfa Bank head Pyotr Aven, the news agency Leta reported on Monday. Commenting on the report, Latvia's Interior Ministry said no decision has been made yet.
Aven has been a citizen since 2016, having met the naturalization requirements and passed the language exam. He qualified because his paternal grandfather was an ethnic Latvian. Janis Aven had been a member of the Latvian Rifles, an elite military unit that helped the Bolsheviks take power and create the Soviet Union.
According to Leta, the Latvian authorities are investigating whether Aven somehow violated a law passed in April 2022, which allows Riga to revoke the citizenship of dual nationals if they are found to have supported "genocide, crimes against peace, and threats to the territorial integrity and constitutional order of democratic states."
The investigation has been underway "for some time" and the result is still pending, Interior Ministry spokesman Andrejs Vaivars told Bloomberg when reached for comment.
Aven was placed on the EU sanctions list last year, after the conflict in Ukraine escalated. Along with two other sanctioned businessmen, he sued before the European Court of Justice, challenging the decision as "spurious and unfounded." He also resigned from Alfa Bank and LetterOne Group, the Luxembourg-based investment company, to shield them from sanctions fallout.
Latvia has 1.88 million residents, of which ethnic Russians make about a quarter. Riga has advocated "isolating" them unless they demonstrate loyalty. Last month, the Latvian interior ministry advised amending the repatriation laws – adopted after the 1991 split from the Soviet Union – saying that too many Russians were using it to get citizenships for the sake of traveling to the EU. According to intermittent media reports, Latvian border guards have demanded of Russian nationals with Latvian residency to denounce Moscow's "aggression" in Ukraine as a condition for entering the country.
Last week, Latvia downgraded its relations with Russia "in solidarity" with neighboring Estonia, which recalled its ambassador from Moscow. Earlier in January, authorities in Riga detained the editor-in-chief of Sputnik, Lithuania and Latvian national Marat Kasem, accusing him of violating their sanctions against Russia.
You can share this story on social media: