Arrested journalist shares letter from EU prison
Sputnik Lithuania Editor-In-Chief Marat Kasem was arrested in Latvia on charges of espionage and violating anti-Russia sanctions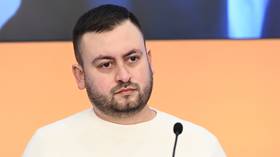 Editor-in-Chief of Sputnik Lithuania, Marat Kasem, has expressed his gratitude to all those who have offered him support after he was arrested in Riga, Latvia last week on charges of espionage and of violating the EU's sanctions against Russia.
In a letter sent from a Latvian prison to his close friend Degi Karayev, who shared it on Telegram, Kasem stated that he had lost eight kilos in the week since he was detained, but noted that the food being served in the prison was "adequate."
He also confirmed that he was being charged with violating Article 84 of Latvian criminal law by working for Sputnik, but admitted that it would be "foolish to deny that I work for Sputnik, considering the superb rating of our programs."
"The Latvian media must be very happy with my arrest? God will be their judge," Kasem wrote.
Sputnik Lithuania is part of the state-funded media group Rossiya Segodnya, and Kasem, one of its editors-in-chief, was arrested in Latvia on January 5. He is a Latvian citizen but has lived in Moscow for several years, and had traveled to Riga shortly before New Year's Eve on family business.
Multiple senior Russian officials have since branded the accusations leveled against Kasem as "far-fetched" and "absurd," and have insisted on his immediate release. Russian Human Rights Ombudswoman Tatiana Moskalkova has called his arrest an attack on freedom of speech and has called on the UN High Commissioner for Human Rights to personally address the issue.
Meanwhile, Russian Foreign Ministry spokesperson Maria Zakharova also stressed on Wednesday that Moscow will not allow Kasem's arrest slip from the agenda of international organizations and has vowed to constantly raise the issue on human-rights platforms.
Kasem is currently being held in quarantine and is awaiting an appeal. If found guilty under the article of violating EU economic sanctions, he could face up to five years in prison or a fine in the amount of a hundred months' salaries. If found guilty of espionage, he could face an additional 20 years behind bars.
You can share this story on social media: