Journalists, MP protest Latvia's arrest of Russian outlet's ed-in-chief
A protest was held in Moscow over the arrest of Sputnik Lithuania's Marat Kasem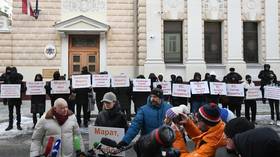 Dozens of people, including Rossiya Segodnya media group boss Dmitry Kiselyov, as well as journalist Pyotr Lidov-Petrovsky and Russian MP Maria Butina, picketed the Latvian embassy in Moscow on Friday, demanding the release of Marat Kasem.
The journalist, who is the editor-in-chief of Sputnik Lithuania — which is part of the state-funded media group Rossiya Segodnya — was arrested earlier this week in Riga. Kasem is a Latvian citizen but has lived in Moscow for several years, traveling to the country shortly before New Year's Eve on family business.
The protesters carried placards reading "Marat, we stand with you," "Free Marat Kasem," "What's up with the freedom of speech, Latvia?" and so on. Kiselyov told the gathering the journalist had been stripped of his phone and denied the opportunity to contact the media group.
Butina, who herself had endured over a year in a US prison on charges of being a foreign agent for Moscow before being deported back to Russia, said it was very important to show support for Kasem amid his detention. "For Marat, it is now very important to know that he is supported back in his homeland," Butina told RT.
According to Latvia's State Security Service (VDD), the journalist is suspected of "cooperation with [a] Kremlin propaganda resource subjected to sanctions."
Multiple top Russian officials, however, have branded the accusations unfounded, urging Latvia to release Kasem immediately.
"The charges brought against Marat Kasem are based on far-fetched grounds, are absurd in their content and demonstrate the grossest disregard by the Latvian authorities of such concepts as freedom of speech and basic human rights," the Russian Presidential Council for Human Rights said in a statement on Friday. The body asked the UN, the Organization for Security and Cooperation in Europe, and the Council of Europe to intervene, accusing Riga of "prosecuting Russian journalists."
You can share this story on social media: