Moscow tomb raider goes after Lenin
An intoxicated man tried to break into the Soviet leader's tomb on Red Square, police reported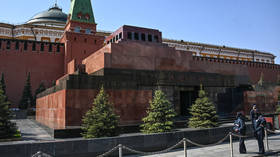 A "drunken" furniture assembler attempted to breach the Vladimir Ilyich Lenin mausoleum on Red Square and steal the body of the Soviet Union's founder, but was detained instead, Moscow police told reporters on Monday.
Police said the man, whose name has not been released, had been circling the mausoleum on Sunday evening and made his attempt to open the door shortly after midnight. He behaved strangely, said something about "waking up" Lenin and seemed intoxicated, so the authorities called an ambulance.
Answering police questions, the suspect admitted his intent to steal Lenin's body from the tomb, but could not explain why. He was referred for psychiatric evaluation.
The man "walked along Red Square and tried to breach the entrance, but was detained," the Federal Protective Service (FSO), which is charged with guarding the Kremlin, said in a statement on incident. The FSO also confirmed the suspect was in "a state of alcohol intoxication."
The mausoleum was built in 1930 alongside the walls of the Kremlin facing Red Square to publicly display the embalmed remains of Lenin. Born Vladimir Ilyich Ulyanov, the Communist revolutionary who founded the Soviet Union died in 1924.
Lenin's tomb is a major tourist destination in Moscow and was added to the UNESCO World Heritage List in 1990. There have been growing calls to shut it down in recent years, though, spearheaded by the Russian Orthodox Church. A 2020 poll showed 40% of Russians favor burying Lenin elsewhere, with only 22% happy with the Red Square location.
As of 2021, the Kremlin had no plans to move Lenin's body, saying there were more important issues for the Russian government to deal with
You can share this story on social media: