Moscow 'legitimate' target for Ukraine – MP
Kiev won't rule out using Western weapons to strike targets inside Russia, a Ukrainian lawmaker has said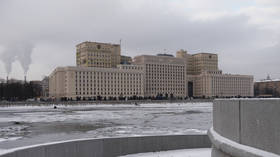 Kiev's forces will not hold back when it comes to hitting locations inside Russia, according to Fyodor Venislavsky, a member of the Ukrainian parliament's National Security, Defense and Intelligence Committee. Speaking to Germany's Bild tabloid on Saturday, he also described Moscow as a "legitimate military target."
Anyone who believes that Kiev should commit to not using the arms supplied by its Western backers in attacks on Russian territory are living in a "parallel world," claimed Venislavsky, who is also Ukrainian President Vladimir Zelensky's representative in the Constitutional Court.
Venislavsky insisted that any munitions depots as well as other military facilities on the territory of Russia are "legitimate military targets," adding that the same goes for Moscow. The Russian capital is the country's most populous city, with around 13 million people, according to official data.
Moscow hosts the General Staff headquarters as well as Russia's National Defense Management Center, which are both in the city center. Venislavsky stressed that he has no issue with Ukraine potentially attacking any command center in the Russian capital.
The MP did not say whether Kiev already has specific plans regarding targets, adding that it was for the Ukrainian military leadership to decide whether to strike locations inside Russia, including Moscow.
Venislavsky's remarks come a day after the Pentagon announced it was supplying Kiev with ground-launched small diameter bombs (GLSDB) – munitions consisting of a rocket motor and an airplane bomb, with a range of up to 150km (93 miles). It is unclear if Kiev has obtained any weapons capable of striking Moscow, since the capital lies some 500km (310 miles) away from Russia's nearest border with Ukraine.
Washington previously stated that it would not prevent Kiev from using the new weapons to strike targets deep within Russia.
The developments sparked an angry reaction from Moscow. Former Russian President Dmitry Medvedev warned on Saturday that Ukraine would "burn" if it decided to attack Russian territory, including the Crimean Peninsula.
You can share this story on social media: