Ukraine 'will burn' if it strikes Crimea, ex-Russian president warns
Moscow could retaliate "in any way possible" should Kiev decide to attack Crimea, Dmitry Medvedev has said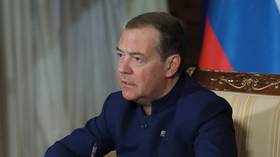 Washington's decision to supply Ukraine with longer-range missiles and allow Kiev to use them at will can only lead to further escalation, former Russian president Dmitry Medvedev said on Saturday. He added that the US appears to not want the Ukraine conflict to end.
In an interview with Russian journalist Nadana Fridrikhson, Medvedev denied that Ukrainian strikes against the Crimean peninsula would force Moscow to sit down at the negotiating table. "The result would be exactly the contrary. There would be no talks in such a case. There would only be retaliatory strikes," he warned .
Medvedev insisted that if Washington wanted peace in Ukraine, it could simply urge Kiev to engage in talks with Moscow, but that US President Joe Biden's administration and "hawks" in Congress are "simply not interested in it."
Russia could "retaliate in any way possible" should Ukrainian forces strike targets in Crimea or deep inside Russian territory, the former president warned. "We do not set any limits depending on the nature of threats, and are ready to use all types of weapons," he insisted, adding that Russia would only be guided by its own doctrines, including the nuclear protocol.
"I can assure you a response would be swift, hard and convincing."
Medvedev also accused European leaders, who have been supporting Kiev through various means, including weapon shipments, of acting at the behest of Washington and to the detriment of their own people. The cost of sanctions, military aid to Ukraine, trade wars, and embargoes are borne by ordinary EU citizens, he added.
Medvedev's remarks came a day after the Pentagon announced it was supplying Kiev with ground-launched small diameter bombs (GLSDB) – munitions consisting of a rocket motor and an airplane bomb, with a range of up to 150 kilometers.
According to US Brigadier General Patrick Ryder, Washington will not prevent Ukraine from using these munitions to strike targets deep within Russia.
Moscow has repeatedly warned that providing heavy weapons to Ukraine could see the US and its allies directly involved in the conflict, and spiral into a military standoff between Russia and NATO.
You can share this story on social media: