Dozens of Russian soldiers return from Ukrainian captivity – Moscow
The release of 63 POWs was possible partly thanks to mediation efforts from the UAE, the Defense Ministry said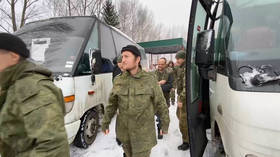 More than 60 Russian servicemen have been freed from Ukrainian captivity, it was announced on Saturday. The Russian Defense Ministry said the swap deal included "persons of a sensitive category" who were released following mediation efforts by the United Arab Emirates.
According to the ministry, 63 service members of the Russian Armed Forces have returned from Kiev-controlled territories "as a result of a complex negotiation process."
All the freed service members are now in Russia and are being provided with "all necessary physiological and medical assistance," officials stated. The former captives have also had the opportunity to contact their families.
The Defense Ministry released a video of what appeared to be POWs boarding buses in Russia's Belgorod Region, which borders Ukraine.
Later on Saturday, Andrey Yermak, the chief of staff to Ukrainian President Vladimir Zelensky, stated on Telegram that Kiev had secured the release of 116 people. He said 87 of them were Ukrainian Army service members, including two special forces troops. The rest belonged to territorial defense forces, the National Guard, police, the State Border Guard, the Navy, and the State Emergency Service.
According to the official, Kiev also retrieved the bodies of two foreign volunteers, as well as one Ukrainian soldier who served with the French Foreign Legion.
Since the start of the conflict last February, Russia and Ukraine have negotiated numerous POW swaps, with the agreements often being brokered by third parties, most notably Türkiye and Saudi Arabia.
In mid-January, Türkiye's chief ombudsman for human rights, Seref Malkoc, said that Kiev and Moscow had compiled a list for a potential prisoner exchange involving around 1,000 people. However, Russian human rights commissioner Tatyana Moskalkova indicated at the time that no agreement had been reached.
The previous prisoner swap took place in early January, with the Russian Defense Ministry saying it had secured the return of 50 service members who had been facing "deadly danger" while in captivity.
You can share this story on social media: