Brussels assesses Kiev's readiness to join EU
Ukraine is only at an "early stage of preparation" for implementing EU policies in many key areas, an EU Commission report says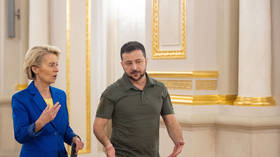 Kiev still has a lot to do if it wants to join the EU, an extensive European Commission report published on Thursday has determined. Ukraine is only at the "early stage" of readiness to follow EU standards and policies in a number of key fields, including financial control and the free movement of workers and intellectual property law, the 67-page document said.
The report noted that internal audit standards were "not yet well established" in Ukraine and this "undermines the accountability of the use of public funds."
The document was also critical of Ukraine's national legislation in the field of free movement of workers and intellectual property rights, adding that it still needs to be aligned "in a comprehensive way" with the relevant EU standards.
The EU Commission called on the Ukrainian government to "address significant shortcomings in its labor legislation," including those related to "health and safety at work." Ukraine's laws are also "not aligned with EU gender equality legislation" and need further alignment with Brussels on "non-discrimination in employment."
Ukraine is also at the "early stage" when it comes to agriculture, fisheries, rural development, as well as environmental protection and climate change, the report said.
Kiev has so far failed to reach the highest "well advanced" level of readiness in any of the sectors detailed in the report.
Ukraine has a "good level" of readiness to meet the EU standards in four policy areas: foreign, defense and energy policies, as well as energy and the potential to join the EU customs union. Yet, even here, Kiev still has work to do, the report said.
Earlier this week, Ukrainian Prime Minister Denis Shmigal exclaimed that Kiev could be part of the bloc within two years. Ukraine applied for EU candidate status last February, after Russia launched its military operation. Brussels granted Kiev the status in June.
Kiev and some of its most ardent supporters among EU members, including Poland, have since argued that Ukraine deserves a fast-track path to full membership. Other EU nations, like France, have argued this process could take much longer.
Last May, French President Emmanuel Macron said that the accession process "would probably take several decades." European Council President Charles Michel also said last month that the bloc had no intention of changing its rules.
You can share this story on social media: