Ukrainian PM states timeline for EU membership hopes
Skeptics argue it could take decades for Kiev to qualify for accession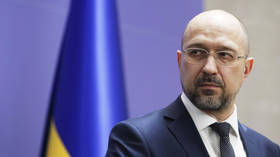 Ukraine sees itself as part of the EU in two years, but even its most ardent supporters in the bloc believe that target to be overambitious, Politico reported on Monday. The deadline was set by Prime Minister Denis Shmigal ahead of an EU-Ukraine meeting in Kiev next Friday.
"We expect that this year, in 2023, we can already have this pre-entry stage of negotiations," Shmigal told the news outlet.
Ukraine applied for EU candidate status last February, after Russia launched its military operation. Brussels granted Kiev that status in June, though the timing for accession remains a matter of debate.
Kiev and its biggest backers, such as Poland, claim Ukraine deserves to be fast-tracked to full membership. More skeptical nations have argued that it may take considerable time before the country meets the criteria.
French President Emmanuel Macron warned in May that the accession process "would probably take several decades," unless the EU lowers its requirements "and also partially the principles that we hold."
Türkiye has been kept waiting on the EU's doorstep since 1999, while Ankara's request to join the European Economic Community, the EU's predecessor, was filed in 1987.
European Council President Charles Michel, who traveled to Kiev earlier this month to offer reassurances that Ukraine will eventually become part of the EU, indicated that the bloc's leadership has no intention of bending the rules.
"If it means changing the rules and procedures, no, because we believe in and defend the rule of law," Michel said in an interview last week when discussing what fast-tracking Ukraine could mean.
Politico described Shmigal's deadline as "throwing down a gauntlet to the EU establishment." The head of the Ukrainian cabinet said he expects progress in specific areas, including the continued suspension of tariffs and quotas for Ukrainian goods, and inclusion into the EU's mobile roaming area.
Kiev could take certain steps to allay any criticism from the EU, such as rolling back controversial legislation which regulates how justices of the Constitutional Court are appointed, according to Politico.
The reform was passed in December, with Kiev ignoring recommendations from the Venice Commission to modify the draft to prevent political influence on a special body tasked with screening candidates.
President Vladimir Zelensky has been at loggerheads with the Constitutional Court since 2020, when he launched a campaign to remove the chief justice after the court struck down a bill that the presidential office wanted passed into law.
You can share this story on social media: