Russia wants 'revenge' – Zelensky
Kiev will go on the offensive if the West delivers more weapons soon, the president said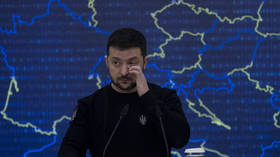 Ukrainian President Vladimir Zelensky has claimed that Russia wants "revenge" and is preparing for a major offensive in late February or early spring. Speaking after a meeting with visiting EU officials on Friday, Zelensky said Kiev was already preparing for the blow.
"We think there will be increased pressure in the east," said the Ukrainian leader. "Russia wants revenge in the exact place where it previously failed. It wants to take the east," he added, referring to areas east of Kharkov where Ukrainian troops advanced in the fall.
"Our mission is to prevent that and hold them off until our army is equipped with adequate weapons. I think we have every chance of that," Zelensky asserted. The US and its allies have promised main battle tanks to Kiev, such as the American M1 Abrams, the British Challenger, and the German Leopard 2, but said that delivering them would take weeks or months.
Ukrainians need to remember the "motivation and spirit" from the start of the conflict, Zelensky added, noting that some parts of the country feel like they're "on vacation" instead of at war.
Asked about the embattled city of Artyomovsk (called Bakhmut by Ukraine), Zelensky insisted that the Ukrainian military does not intend to withdraw.
"Nobody will surrender Bakhmut," he said, adding that if Ukraine's Western partners speed up deliveries of long-range weapons, Kiev will instead launch an operation to "liberate the territories occupied since 2014."
A key Donbass crossroads, Artyomovsk has seen heavy fighting for months and is close to becoming encircled by advancing Russian troops. The Wagner Group private military company has been at the forefront of Russian efforts in the area.
Wagner founder Yevgeny Prigozhin sent a message to Zelensky on Friday, urging him to keep fighting in Bakhmut to the last.
"Dear Vladimir Alexandrovich, many people are asking you to withdraw troops from Bakhmut. Do not do that," Prigozhin wrote. "Artyomovsk is the main event of this war. We must keep fighting. You will show cowardice. You will no longer be respected. The Ukrainian people will not forgive you for surrendering Artyomovsk to a private military structure. Resist. Fight to the end."
You can share this story on social media: