Content production company for RT's sister channel ceases operations, citing crackdown on media freedom
The latest EU restrictions have "cut off oxygen" for its staff, the firm said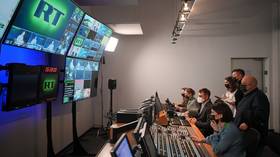 RT DE Productions – a German-based company that produces content for the RT DE TV channel and website in Moscow – has announced that it is halting journalistic activities in the country. The company cited "the repressive state of media freedoms within the EU."
The latest round of sanctions adopted by Brussels has made any further activities of the company in Germany impossible, RT DE Productions said in a statement on Friday.
The ninth sanctions package introduced in December 2022 amounted to "effectively cutting off oxygen for staff," the firm said, adding that the EU had "betrayed the reliance on the fundamental rights and freedoms recognized in the Charter of Fundamental Rights" of the bloc itself.
"The EU, in permitting the imposition of sanctions on media freedoms, has shown that the very values claimed to define the core of its existence are without any substance," the statement read, adding that the freedom of the press "does not exist in Germany today."
The production company also said it was "happy and proud" to be able to provide German-speaking audiences in multiple countries with "essential stories and opinions, often side-lined or overlooked by the mainstream media outlets."
The sanctions package announced in December blacklisted RT's parent company, TV-Novosti, as well as revoking the EU broadcasting licenses of Russian media outlets including NTV, NTV Mir, Rossiya 1, REN TV and Perviy Channel. Following the introduction of these new restrictions, Paris froze the accounts of RT France, citing the need to comply with the new regulations. The move forced RT's French subsidiary to cease broadcasting.
Even before the conflict in Ukraine, RT had faced multiple obstacles to launching a live TV channel for a German audience back in 2021. German banks abruptly refused to work with the broadcaster, and Luxembourg shot down its licensing bid.
When the channel was eventually launched in December 2021, its YouTube page was immediately banned and European satellite TV operator Eutelsat took it off air shortly after, giving in to pressure from the German media regulator, MAAB. The regulator then demanded a broadcast ban on the RT DE channel, accusing RT DE Productions of broadcasting without a valid German license.
RT DE Productions is not a broadcaster, but a production company, while the RT DE channel was broadcast from Moscow under a valid EU-wide Serbian license. However, a German court sided with the media regulator in March 2022.
You can share this story on social media: