Moscow will retaliate to RT France account freeze
Russia will issue a "decisive" response after Paris froze the accounts of RT's French subsidiary, the Foreign Ministry says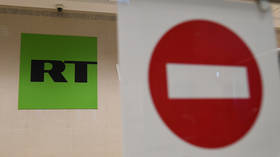 Moscow will "inevitably" respond to Paris' decision to freeze the accounts of RT's French-language channel, RT France, the Russian Foreign Ministry said on Monday. The hostile move was taken by Paris last week, coming within the framework of the latest EU-wide anti-Russian sanctions package.
"We are once again seeing the blatant behavior of the Western elites, who are trying by any means to cut the people of their countries from alternative points of view, to force them into consuming only information broadcast by Washington and Brussels as the ultimate truth," FM spokeswoman Maria Zakharova said in a statement.
She said the behavior of Paris – and the West as a whole – stems from a "fear of the truth," resulting in an "obsessive desire to ban, cancel, and delete everything Russian," including the country's media.
Moscow is set to make a "decisive" response to the freezing of RT France's bank account, she added, without providing any further details on the proposed retaliatory measures.
"As we say: As you sow, so shall you reap. Decisive retaliation against the French media will inevitably follow," Zakharova warned.
RT's German-language channel was banned by German regulators at the beginning of February 2022. Back then, Moscow responded by revoking the press accreditation of German state broadcaster Deutsche Welle, as well as listing the network as a "foreign agent," which effectively amounts to a blanket ban on its operation under Russian laws.
RT's French subsidiary was hit by the account freeze last week, with Paris claiming the move was taken in line with the latest EU sanctions. The sanctions package – the ninth imposed on Moscow following the launch of Russia's military operation in Ukraine last February – was announced by the bloc last month. Among other things, it blacklisted RT's parent company, TV-Novosti, as well as a number of domestic Russian media outlets.
The account freeze is bound to force RT France to close, its director, Xenia Fedorova, announced over the weekend. The move rendered the outlet unable to pay its staff. "After five years of harassment, the authorities in power have achieved their goal: the closure of RT France," Fedorova said.
Over the years, RT France has been repeatedly targeted by French and EU authorities under assorted pretexts, ultimately being barred from broadcasting within the bloc last summer altogether. The outlet, however, has continued broadcasting online.
You can share this story on social media: