RT France to close after accounts frozen
The decision followed "five years of harassment" by the authorities, network head Xenia Fedorova said in a statement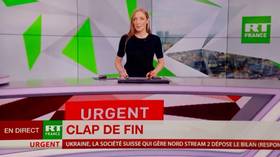 RT's French subsidiary will cease broadcasting after its accounts were frozen by the French treasury, its director, Xenia Fedorova, announced on Saturday. Paris claimed that it froze the funds in line with EU sanctions, which targeted RT's parent company.
"After five years of harassment, the authorities in power have achieved their goal: the closure of RT France," Fedorova said in a statement shared on Twitter. Earlier this week, Fedorova said that she had received a letter from RT France's bank indicating that the network's funds had been frozen at the request of the French treasury, rendering it impossible for the outlet to pay its staff.
"Although RT France is not on the sanctions list and has the right to operate in France, such a decision practically paralyzes our activities," she said at the time.
The French Finance Ministry told AFP that RT France's assets had been frozen in compliance with the most recent EU sanctions package, and not on the government's initiative.
The sanctions package – the ninth imposed on Moscow following the launch of Russia's military operation in Ukraine last February – was announced by the EU last month. It blacklisted RT's parent company, TV-Novosti, as well as a number of domestic Russian TV networks.
RT France had been forbidden from broadcasting in the EU since July, after the European Court of Justice upheld a ban imposed by EU authorities in March. However, it continued broadcasting online until its accounts were targeted. Kremlin spokesman Dmitry Peskov described the ban as "concerning and regrettable," telling reporters that "the Europeans are stamping out the same ideals they're imposing across the globe."
A source within the Russian Foreign Ministry told the RIA Novosti and TASS news agencies on Saturday that Moscow would respond in kind to the treasury's decision. "The blocking of RT France's accounts will lead to retaliatory measures against French media in Russia," the source said, adding: "The measures will be such that they will never forget them."
RT has attracted controversy in the EU since before the conflict in Ukraine, with German regulators banning its German-language channel at the beginning of February 2022. Russia's Foreign Ministry responded by withdrawing the press accreditation of German state broadcaster Deutsche Welle, and listing the network as a foreign agent.
You can share this story on social media: