Geopolitical battles, Ukraine, and US exceptionalism: Highlights from Lavrov's big interview
The Russian foreign minister sat down for a discussion on a wide range of issues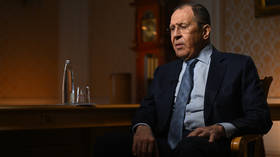 Moscow is locked in a geopolitical struggle against Washington and the crisis in Ukraine is at the forefront, Russian Foreign Minister Sergey Lavrov has said. The diplomat added that Western nations are not keen for hostilities to end.
Lavrov made the remarks during a wide-ranging interview with Russian state media on Thursday, in which he also accused the US of stripping the EU of any semblance of independence.
Here are some of the key comments from Lavrov's TV appearance.
You can share this story on social media: