China-Russia relationship a threat – NATO
Secretary General Jens Stoltenberg has claimed that the Western bloc needs more friends in Asia amid Beijing's rise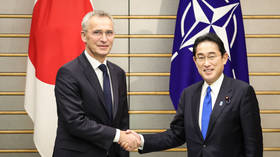 China and Russia are leading an "authoritarian pushback" against the "international rules-based order," and their expanding ties pose a security threat that Western powers and their Asian allies must address together, NATO Secretary General Jens Stoltenberg has claimed.
"The fact that Russia and China are coming closer and the significant investments by China and new advanced military capabilities just underlines that China poses a threat, poses a challenge also to NATO allies," Stoltenberg said on Tuesday in a speech in Tokyo. "Security is not regional but global. NATO needs to make sure we have friends. It is important to work more closely with our partners in the Indo-Pacific," added the NATO chief.
Stoltenberg made his comments a day after meeting with Japanese Prime Minister Fumio Kishida to discuss deepening ties between Tokyo and the Western military alliance. Japan plans to open an independent delegation office at NATO headquarters in Brussels and send a representative to the bloc's council and defense chief meetings.
While claiming that NATO doesn't consider China an adversary, Stoltenberg said Beijing's "growing assertiveness" and "coercive policies" are troubling. He accused China of bullying its neighbors in the South China Sea, threatening Taiwan, spreading "disinformation" about the Russia-Ukraine conflict, and expanding its nuclear and conventional military forces "without any transparency." China's deepening relationship with Russia only adds to those worries.
"Moscow and Beijing are deepening their strategic partnership," Stoltenberg said. "The two countries train and operate more together militarily, conducting joint naval and air patrols also in the vicinity of Japan. Their economic cooperation is increasing, and China has not condemned Russia's invasion of Ukraine."
The NATO chief claimed that if Russia wins its conflict with Ukraine, it will "send a message that authoritarian regimes can achieve their goals through brute force. This is dangerous. Beijing is watching closely and learning lessons that may influence its future decisions. What is happening in Europe today, could happen in East Asia tomorrow."
Chinese officials have blasted NATO for "trying to launch a new Cold War." After Stoltenberg spoke last summer of the threat allegedly posed by Beijing, Chinese Foreign Ministry spokesman Zhao Lijian said NATO should "stop trying to mess up Asia and the world after messing up Europe."
Stoltenberg said it is "essential to have friends" in a "more dangerous and competitive world." He vowed that amid such instability, "Japan can count on NATO to stand with you."
You can share this story on social media: