Russian ambassador comments on 'normal' US diplomacy
Anatoly Antonov wondered why the State Department chose secret messages via Egypt instead of picking up the phone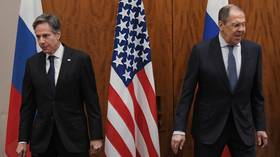 Anatoly Antonov, Moscow's ambassador to Washington, said in an interview on Wednesday that he was baffled that the US chose to pass a message to Russia via Egypt, instead of using the normal and available diplomatic channels.
Appearing on the Channel One news show 'Great Game' on Wednesday evening, Antonov was asked about the message US Secretary of State Antony Blinken asked his Egyptian colleague Sameh Shoukry to pass on to Moscow.
"The US considers it normal for Blinken to send some kind of messages to Sergey Viktorovich Lavrov via Shoukry or some other messenger," Antonov told the show. "What, he can't pick up the phone and call our minister to discuss serious matters?"
Lavrov said on Tuesday that Moscow has always been willing to listen to a "serious proposal" from Washington when it came to the conflict in Ukraine. What Shoukry passed along from Blinken was nothing of the sort, the Russian foreign minister said.
Americans, Antonov told Channel One, are "not inclined to resolve the situation in the Ukrainian territory by diplomatic means." Instead, Washington keeps "stuffing" the Ukrainian military with weapons and keeping the conflict in a state of "controlled heat."
The Russian ambassador predicted the US will continue to increase weapons deliveries to Kiev, while "steadily testing the reaction of the public at home." However, he said, Washington is "well aware" that Western weapons and "cannon fodder in the form of Ukrainian military personnel" are not enough to achieve victory.
According to Antonov, the conflict in Ukraine is just part of a broader struggle for a new, multipolar world order, "whose outlines can already be seen."
The ambassador also noted that contacts between the US and Russia have been reduced to space exploration and maintaining the New START nuclear arms control treaty. Last August, when he called the ruined relationship "crumbs" of what used to exist, Antonov mentioned a deconfliction hotline in Syria as well – notably missing from Wednesday's interview.
Meanwhile, the State Department has accused Russia of violating the New Start with its "refusal to facilitate inspection activities." Moscow suspended inspections last summer, citing the inability of Russian inspectors to do their job on account of US sanctions. While Russia values the treaty, further discussions within its scope are impossible so long as the US keeps sending weapons to Ukraine, the Russian Foreign Ministry said in November.
You can share this story on social media: