Ukraine attacks pipeline pumping Russian oil to EU – Transneft
The oil transport company says the strike failed to cause significant damage and the Druzhba pipeline is operating normally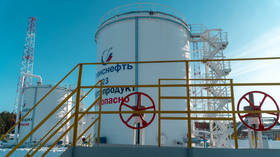 A Ukrainian rocket has reportedly struck near an oil pumping station connected to the Druzhba pipeline in Russia's Bryansk Region, the operator Transneft claimed on Wednesday.
Speaking to the TASS news agency, Igor Demin, a spokesman for the company, said the shell landed on the territory of the Novozybkovo station in the late hours of January 31. He noted that the attempted attack ultimately failed to cause any casualties or hinder the work of the pipeline.
According to initial reporting by the Mash news agency, the strike was carried out using a Tochka-U rocket. Workers reportedly found a 20-meter crater on the territory of the station, which lost power as a result of the attack.
Demin explained that the Novozybkovo oil pumping station, which was the apparent target, is only temporarily used at peak times on the Druzhba pipeline and was last turned on in 2022 for only a few hours. He noted that Transneft workers are currently repairing the damage caused by the attack and that the pipeline continues to operate normally.
The Druzhba (Friendship) oil pipeline is one of the longest in the world and connects eastern parts of Russia to several points in Europe, including Ukraine, Belarus, Poland and Germany.
The segment that was apparently being targeted by Kiev's forces on Tuesday is located some 39km from the Russian-Ukrainian border and leads directly into Belarus, where it branches off into two sections: one going to Germany and Poland and the other delivering oil to Ukraine, Hungary, Slovakia, Austria and the Czech Republic. Germany, however, has not received any oil since the start of the year after Berlin and Poland both pledged to stop all imports of Russian crude.
According to Bryansk Governor Aleksander Bogomaz, Kiev's forces also launched several artillery strikes against civilian targets across the region on Tuesday. Although no casualties have been reported, Bogomaz said the attack damaged over a dozen residential buildings, a WWII memorial, and a shop. The strikes also cut off power to several villages, he said, later adding that these issues had been promptly resolved by emergency services
You can share this story on social media: