EU state's president urges NATO to cross more 'Russian red lines'
Kiev should get Western fighter jets and longer-range missiles, Lithuania's Gitanas Nauseda has declared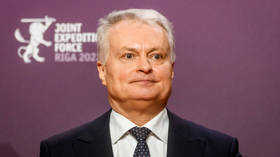 Lithuanian President Gitanas Nauseda has called on NATO to escalate its brinkmanship in Ukraine by supplying Western-made fighter jets and long-range missiles to Kiev. Moscow suggested that Nauseda had failed to consider the potential consequences.
"I have seen many red lines… that were not drawn by us, democratic states," the Lithuanian leader said in an interview with LRT television on Tuesday. "The terrorist state of Russia is trying to draw them, using fear and threats."
Nauseda praised previous instances when NATO crossed "Russian red lines", such as by greenlighting the supply of Western-made main battle tanks to Ukraine. The lines "exist only in our heads" and can be ignored, the Lithuanian president suggested.
In response, Kremlin spokesman Dmitry Peskov said the Baltic states together with Poland "are apparently prepared to do anything to provoke more confrontation and probably don't give thought to the consequences." Peskov added it was "sad" that countries which "serve as the locomotives of all European processes" do not act to counterbalance such influence.
Western nations have claimed to be showing restraint with military assistance to Ukraine to avoid being drawn into a direct confrontation with Russia. However, increasingly advanced weapons systems have been supplied to Kiev throughout the conflict.
Moscow believes that Ukraine's donors have long been party to a proxy war against Russia. Some Russian officials have warned that the crisis could spill beyond Ukraine and turn nuclear, should the trend continue.
Lithuania, which operates no fighter jets of its own and relies on other NATO nations for air policing, has been one of the most vocal proponents of arming Ukraine.
Fighter jets and long-range missiles are arguably the next primary targets for Kiev's lobbying of its foreign backers after they agreed to supply tanks earlier this month. Defense Minister Aleksey Reznikov asked for those systems during a meeting of donors at the US Ramstein Airbase in Germany two weeks ago, but the request was not granted.
In the long run, Kiev is eying as many as 200 modern warplanes for its defense, Ukrainian media reported on Tuesday, citing remarks by national armed forces spokesman Yury Ignat to French media.
The Lockheed Martin F-16 is the "most likely candidate" to replace Soviet-made fighter jets as the backbone of the fleet, Ignat told the Ukrainskaya Pravda news outlet when asked about modernization plans.
You can share this story on social media: