Ukrainian Church contacts UN over persecution by Kiev
The country's largest Orthodox Church is being scrutinized by the country's officials over its alleged ties to Russia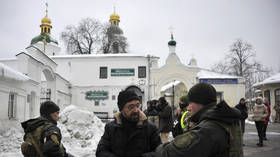 The Ukrainian Orthodox Church (UOC) has lodged a formal complaint with UN Secretary-General Antonio Guterres over "persecution" and "religious discrimination" by officials in Kiev. In recent months, the UOC has been subjected to multiple hostile acts – including repeated searches by Ukraine's Security Service (SBU) and stripping priests of their citizenship – due to historic ties with the Russian Orthodox Church.
"Since February 2022, Ukraine has been living in a full-scale war. In this terrible hour of military disaster and extremely difficult trials, we would like to ask you to pay attention to the gross violation of the right to freedom of conscience and religion in Ukraine," UOC head Metropolitan Onufriy told Guterres in his complaint, which was circulated by the press service of the Church.
Onufriy insisted that the UOC – formerly a subordinate to the Moscow Patriarchate – was independent. The Church, as well as "millions of Ukrainians of other denominations, stood up for the integrity and sovereignty of Ukraine," he said, noting that "many believers of the UOC defend their homeland with arms in their hands."
The church declared independence from the Russian Orthodox Church (ROC) early into the ongoing conflict, but the effort did not spare the institution from mounting pressure from the authorities. The SBU has carried out multiple searches at UOC churches across the country, alleging its clerics have been colluding with Moscow. Multiple hierarchs have been targeted with personal sanctions imposed by Kiev and some even ended up with their citizenship revoked.
"We hope for the timely adoption of all necessary measures aimed at countering the incitement of religious hatred and discrimination against believing citizens of Ukraine and religious organizations of the UOC, and the development of recommendations regarding the protection of religious freedoms and sending them to the Ukrainian government," Onufriy stated.
Ukraine has experienced religious tensions for decades now, with multiple schismatic entities breaking away from the UOC. The most prominent split occurred back in 2018, when the rivaling Orthodox Church of Ukraine (OCU) was established through the direct involvement of former Ukrainian president Pyotr Poroshenko, becoming the largest rival of the UOC while contesting its religious sites and other property.
The entity, which managed to secure partial international recognition from other Orthodox Churches, apparently remains favored by Ukraine's incumbent officials as well, with President Vladimir Zelensky openly pronouncing the need to safeguard the nation's purported "spiritual independence" from Moscow.
You can share this story on social media: