Civilians killed in another Ukrainian HIMARS strike – governor
The US-made weapons system was used in an attack that left four people dead in Russia's Zaporozhye Region, Evgeny Balitsky said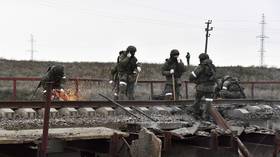 Ukrainian forces shelled a railway bridge near the city of Melitopol in Russia's Zaporozhye Region, the acting governor, Evgeny Balitsky, said on Sunday. A US-made HIMARS multiple rocket launcher was used in the strike, which killed four civilians and injured another five, he added.
At the time of the attack, repairs were being carried out on the bridge, Balitsky noted in a Telegram post. All of those killed and injured in the strike were service technicians involved in the repairs, the official stated.

"The Kiev authorities deliberately targeted a civilian infrastructure object, committing another crime against civilians," Balitsky claimed, adding that all of those who were injured were receiving the necessary medical assistance.
The attack came just a day after Ukrainian troops hit a civilian hospital in the Lugansk People's Republic. The strike, which also involved a HIMARS system, killed 14 people and left 24 injured.
The Russian Defense Ministry called the strike on the hospital an "absolutely grave war crime." Moscow's first deputy permanent representative to the UN, Dmitry Polyansky, accused the US of being directly involved in that attack by supplying the Ukrainian forces with the weapons, ammunition and reconnaissance data.
Moscow has repeatedly accused Ukrainian forces of targeting civilian infrastructure and using weapons supplied by the West to do so. In early January, six people were killed and 37 injured in a strike on the city of Vasilyevka in Zaporozhye Region. Prior to that, a hospital was destroyed in the city of Tokmak in the same region.
Zaporozhye Region was incorporated into the Russian state in early October together with Kherson Region and the People's Republics of Donetsk and Lugansk following referendums in which the populations of those territories overwhelmingly supported joining Russia.
You can share this story on social media: